If you've got a house full of family photos, now's the time to turn them into wall art. I'm talking about more than just your standard gallery wall here. I mean the pieces that make a statement and really tie together an entire room. Whether you're looking to cover up an unsightly space or just want something fun on your bedroom wall, these ideas will make your walls more meaningful without taking up too much real estate. So, let's have a look at our family tree wall art ideas to turn them into lovely room decorations.
Wall Art Ideas For Family Tree
It's evident that these wall art pieces about your family can help you keep your family close to your heart every day. To help you commemorate the important people in your life, we've rounded up nine of our favorite ideas for family tree wall art.
Family Tree Photo Display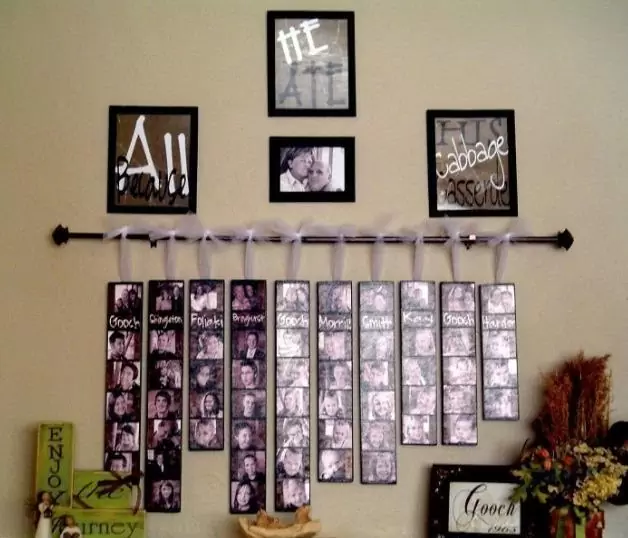 In this idea, you'll display family photos in a family tree. Use a large frame and put the tree on your wall or near the dining table. In the case of a small frame, place the tree on your desk or coffee table.
Family Tree Photo Collage
To create this family tree photo collage, you'll need one large canvas or piece of wood and several photos of your family at various ages. You can use pictures of different members of your family, including yourself and their partners and children.
If you have a lot of photos to choose from, consider printing them out on paper first before deciding which ones are best for this project. It's also possible to take pictures using your phone's camera or any other digital camera.
DIY Family Name Canvas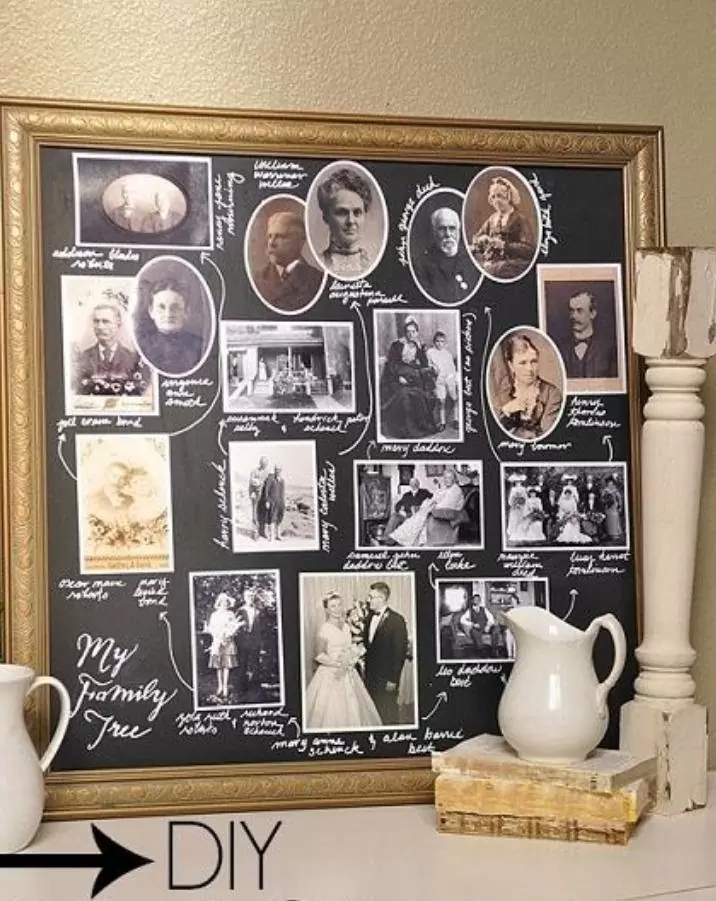 Canvas is a brilliant choice for family tree wall art because it's both durable and versatile. As a blank canvas, this family name canvas can be customized by you to include special touches that your family loves. The finished product can be framed to fit in any space in your home or included as part of an entire room design. Canvas is also easy to clean, so spills won't harm it!
Scrabble Tile Family Tree
If you're looking for a family tree wall art idea that will appeal to your creative side and not require much money, try using Scrabble tiles. These small, inexpensive pieces of wood can be found at most craft stores. They're easy to create with and can be shaped into an outline of a tree or even coffee table legs. The best part about this DIY is that it allows you to spell out names like "Mom" or "Dad" on the tree trunk, making it feel more like an heirloom than just an ordinary piece of art.
Vinyl Decal Family Tree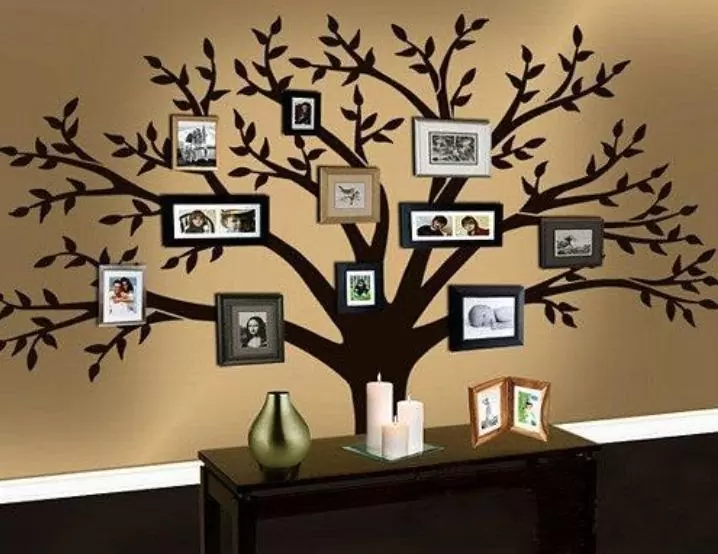 Vinyl family tree decals are becoming more popular because they're easy to apply and can be removed and repositioned if necessary. Besides, you can choose from a variety of styles and colors. It's a great option for renters who want to add something personal to their space without making permanent changes.
Wood Family Sign
A family sign is a perfect way to showcase your family's name. It can be hung on a wall or door and can be made in any shape or size you want. If you're looking for something simple, consider making a wooden "family" sign that's painted or stained, and it will go great with any decor. When you're looking for something more personalized, try making a wooden "family" sign and then adding your last name in wood burning. This will look great with the rustic decor!
Framed Photos With Names And Dates
Instead of using an old photo album, consider displaying your photos on a wall. This is great because it's easy to create a collage, and you can add new photos as often as you want. If your family has a lot of history in one place, like if they lived in the same house for many years, then it might be worth displaying multiple generations at once.
For example, here are some ways that you could use frames:
Use one large frame to display several smaller ones inside it. These big frames come in all shapes and sizes, so there's something out there that will work for any space. You can also choose black or white and have the outside of the frame look like an art piece rather than just having another picture lying around on top of everything else, which is already present within the room.
Now, you can also use multiple smaller frames instead. It can even be from different eras or styles depending on how long has passed since each person was born. You can even get creative by choosing what color scheme goes best with each set. Sometimes those details matter more than anything when someone starts making comments about certain pieces being noticeably different from others.
Custom Silhouette Portraits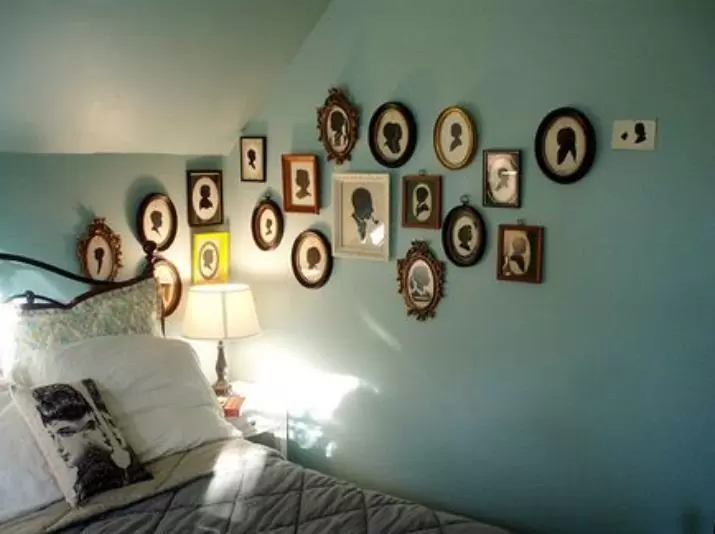 Custom silhouette portraits are a great way to add a personal touch to your walls. You can make them yourself by using any of the following tools:
Silhouette machine
Silhouette app
Silhouette stamp
Silhouette stencil (paper or plastic)
If you're looking for an easier option, you can also buy pre-made silhouette wall stickers from particular sellers specializing in this craft.
Art Prints With Surnames And Initials
Surnames and initials are great ways to personalize family tree wall art. You can go for a classy look with a classic font or choose something more playful. These things can be printed on canvas, paper, or poster board. Moreover, they can also be hung in any room of the house- the kitchen, hallway, and even bathroom!
These prints are versatile in their design as well. They can be hung either vertically or horizontally. If you think it looks better against another piece of decor on your wall, hang it over that piece instead of under it.
Frequently Asked Questions
How Do I Make A Family Tree On Canvas?
Making a family tree on canvas is an easy project that you can do in just a few steps, just like below:
The first step is to gather all of the information about your family and put it together in one place. This can be a scrapbook, photo album, or even a file folder.
The next step is to get the right supplies for making your family tree on canvas. You will need to buy either fabric or canvas and paint or markers that are made specifically for fabric or canvas. You can also use a projector if you would like to make larger trees.
After you have all of your supplies assembled, you can start making your family tree on canvas by placing the fabric or canvas over the wall where you want it to hang. Then, trace where each person should go based on their last name and relationship. 
For example, if there was an Aunts' row and then a Cousins' row, those should be placed on opposite sides of the tree so that they were not overlapping each other. After that, you need to trace each person's name onto his/her corresponding spot on the tree with a marker or paint, depending on which method you used for creating your family tree on canvas.
Lastly, you can add photos near the names to give it a better visual look.
How Do I Display My Family Tree?
Displaying your family tree can be a great way to preserve the history and heritage of your family. There are many different ways to show your family tree, and all of them have their advantages and disadvantages. Each method has its own unique strength and weaknesses, so it's essential to choose the one that best compliments your needs.
The following are some standard methods for displaying your family tree:
1. Using a photo frame or another picture frame.
2. Using a poster board or large piece of paper.
3. Using a whiteboard or chalkboard.
4. Using a wall art decoration.
How To Make A Family Tree Wall?
The best way to start is by drawing out your family tree on paper. Start with yourself and work your way up through the generations. Use different colored markers or pencils for each person's line of descent. 
Once you have your basic outline, it's time to move on to the fun part: decorating! You can use paint or wallpaper, but some people prefer using decals or stickers instead. These are easy to put up and come in many styles and themes, so you're sure to find one that fits perfectly with your room décor.
Final Words
The unignorable fact is that these wall art ideas for the family tree will make you think of your loved ones every time you see them. They're easy to personalize, so whether it's a child's drawing or an old photo that needs new life breathed into it, these pieces will fit the bill! 
The best part about these projects is that they don't require any special skills or expensive materials. All you need is some creativity and time on your hands.