It is enjoyable to celebrate a person's birthday. It's a particular day, after all! Birthdays are particularly exciting for kids. It is essential for students to feel valued, cared for, and appreciated by creating a birthday board within the Daycare. Additionally, acknowledging their birthdays helps them feel like part of the family.
However, keeping track of students' birthdays can be challenging, so we've provided you with 15 birthday board ideas to help you create an outstanding display for each child's birthday.
Decoration Ideas for A Daycare's Birthday Wall
Daycare birthday walls are a simple and easy way to ensure that every child in your class feels special on their special day, and there's another bonus: Set up a bulletin board or birthday chart at the beginning of the year, and you don't have to change out names and dates every month. One corner of the room is taken care of as long as the birthday decor remains all year round. That's awesome!
Idea 1: "Under the Sea" Theme Birthday Wall
I love this Under the Sea-themed classroom birthday board idea. Here's a twist on the jellyfish bulletin board: each month is displayed on a jellyfish's body, and each student's birthday is shown on a tentacle.
Using the following materials, we created an "Under the Sea" birthday bulletin board:
1) Wrapping paper in aqua color
2)Featuring jellyfish, a rainbow Happy Birthday pennant banner, and sea animal cutouts, this jellyfish birthday display template
3)Dark blue and white crepe paper streamers
4)Yarn ball with a fancy look
5)colored cardboard to create the coral
6)yellow and green party decorations.
 Idea 2: A cupcake display for the birthday Wall


Among our birthday-themed teacher resources, this cupcake birthday board is one of the most popular! You will need the following items to create a cupcake birthday bulletin display:
Using a bulletin board or blank wall
Using colored wrapping paper as a background
Chart with cupcakes for birthdays 
Printing Tips: Print one cupcake per page with this downloadable Cupcakes Birthday Display. Printing the candle pages at full size gives the appropriate proportions for the cupcakes. Make a smaller cupcake birthday wall using the same size cupcakes and candles.
Idea 3: Bulletin board for Ice Cream Birthdays
Birthday cupcakes are great, but ice cream birthday walls take celebration dessert displays to a new level! We print out every month of the year on a waffle ice cream cone, and then students get a blank scoop on which to write their names and birthdays (we love putting these in the cherries! ), as well as decorate however they want.
To create this ice cream-themed birthday wall, we used: Template for an ice cream birthday display (including a Happy Birthday picture, waffle cone 'months,' and ice cream scoop). That's it! Here's how to make this display with just a bulletin board or wall, some scissors, mounting putty, and a printable file!
Printing Tip: Using the Template, we printed all pages at full size to create this sample classroom birthday board. Make sure the cones and scoops are published at the same reduced size if you want to create a smaller display!
Idea 4: Rainbow Balloons Birthday Board Idea
Hands up if you love rainbows! You won't believe how easy it is to make a classroom birthday wall! The printable Balloon Birthday Chart is another fun classroom display with a prominent birthday theme. Here are the materials we used to create this birthday bulletin board:
1)Using a black display board (although significant black chart papers would also work)
2)Strings of different colors
3)Template for a balloon birthday chart
4)Pennant Banner with Rainbows for Happy Birthday
Printing Tips: We print two pages of each Balloon Birthday Template and Rainbow Happy Birthday Pennant Banner to create this sample display. Print the size of the entire balloon and hang the banner across one string if you want to create a more extensive, landscape-oriented collection. Ensure the proportions of both balloons don't seem too out of place by printing them at a smaller size.
Idea 5: Gift Bag Birthday Board
The birthday board is easy to make. You can use cute gift bags to display the birthdays for each month! 
Idea 6: Bloomin' Birthdays
Classrooms can use this birthday reminder board to remind students about birthdays. Their birthday flowers will look great in their unique flower pots!
Idea 7: Up, Up, and Away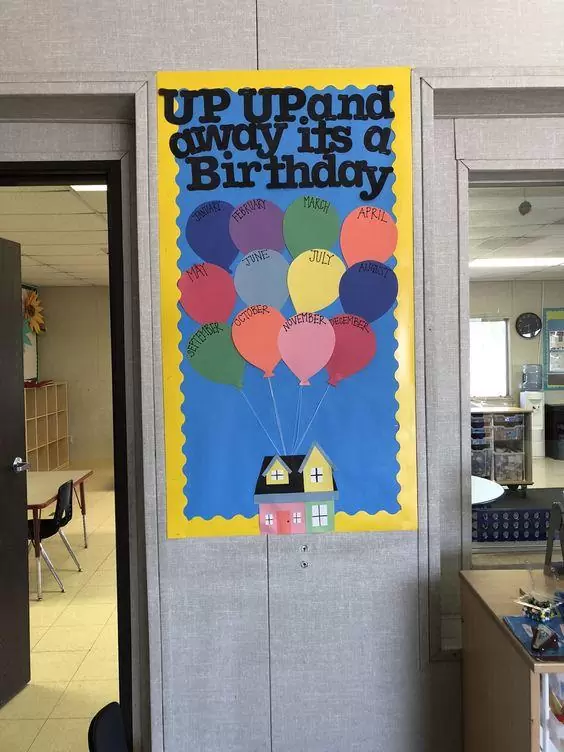 The bulletin board is the perfect size for this idea. Children will love this board since it features the Up theme!
Idea 8: Have a Ball on Your Birthday
It's easy for busy teachers to make this sports-themed birthday board. The balls represent different months. 
Idea 9: Crayon Box Birthday Board
It is very inexpensive to purchase this birthday board display. Only the ordering and shipping processes and the assembling and adhering process will take time.
Idea 10: Birthday Graph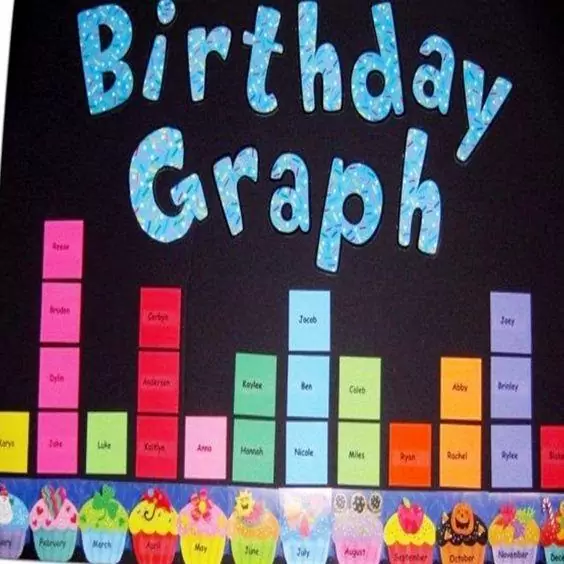 Birthdays are the perfect time to celebrate in your classroom! The graph is also a great way to learn some math!
Idea 11: Birthday Chart Dry Erase Board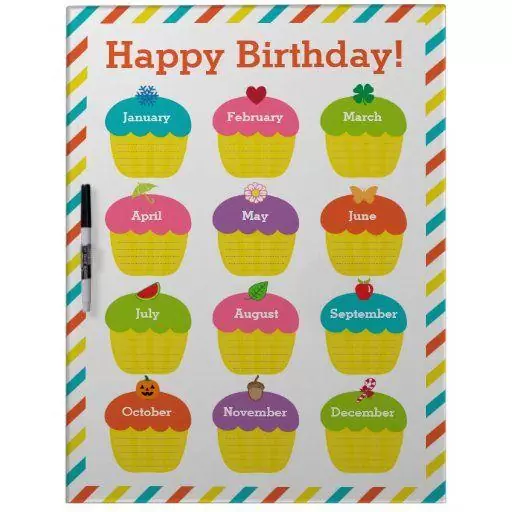 A blank birthday board is also a terrific purchase for the classroom. This dry-erase board is a perfect reminder calendar board that can quickly be filled in and used yearly.
Idea 12: Lolly Jane Birthday Board
Make your own Lolly Jane birthday board. Keep track of each child's special day with this tags wall hanging board. Make sure you have extra name discs if a new student moves in.
Idea 13: Time to Celebrate
To make this DIY birthday board, paint a piece of wood and purchase clothespins and twine. In addition to the vinyl letters, you will need to attach the panel to the wall.
Idea 14: Happy Birthday Board
Changeable message boards are a great way to personalize classroom birthdays. Take a cute picture of the students with the board.
Idea 15: A Star is Born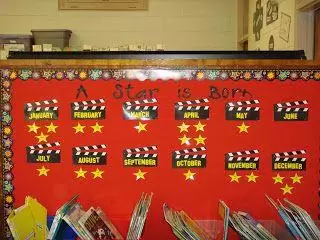 The stars of your classroom are celebrating their birthdays. Please keep track of your students' birthdays so you can buy their gifts on time.
Conclusion
A child's birthday is one of the things they look forward to the most. The simple act of creating a birthday bulletin board in the classroom or the teacher sharing birthday wishes with the class can make a kid's day.  Do you need classroom birthday ideas and classroom birthday boards that will blow your students away? Check out these entertaining birthday wishes we came up with after digging deep into all things birthday!  Oh, and if creating full birthday displays is a little too time-consuming, we've covered you with some excellent, ready-to-print birthday charts, birthday certificates, and unique ways to celebrate your students in the classroom!