A barn door typically adorns a farmhouse, country house, or rustic dwelling. However, barn doors have a more extensive range of applications than their reputation may suggest. In general, sliding doors are more space-efficient than those that open outward.
In addition, barn doors are often constructed of solid wood, either stained in a bold color, rendered in a fun pattern, or painted in a pretty hue. Even if your aesthetic isn't rustic, they're often striking enough to double as décor. Do you still have doubts? This collection of 18 barn door interiors will inspire you. You can see exactly how you can add a barn door to your space, no matter your decor style.
The Best Barn Door Wall Decor Ideas
Homeowners are now seeking out barn doors as one of the most desirable features. You can choose from a wide range of barn door options, whether you're looking for a space-saving solution or an attention-grabbing entrance. Below you'll find some of the best barn door ideas you can use in your home.
1. Sneak Appliances Out of Sight

Do you know one of the beautiful things a barn door can do for your space? Keeping appliances, for instance, out of sight is a brilliant idea. Consider hiding your laundry room behind a striking barn door if you need to incorporate one into your kitchen. You can access your laundry machines easily through the sliding door while maintaining the carefully curated look of your home.
2. Space-Saving Bedroom Door
Are you concerned that a typical door would be too small for your bedroom? In place of sliding doors, you should use barn doors. In addition to maintaining your bedroom's privacy, barn doors add no unnecessary bulk to the room. Consider both sides of your bedroom entrance if a sliding door doesn't work with your existing space. Consider incorporating a barn door that covers a wall art when it is open. 
3. A Mirror-Mounted Barn Door
You can significantly enhance the brightness of your space by installing a mirrored barn door. A full-length mirror can also serve as a space-saving solution since it can separate rooms. Incorporating mirrors into barn doors can provide functionality on either side of your bedroom and bathroom.
4. Door With A Colorful Design
A colorful barn door will add a pop of color to any room. Barn doors are sure to enhance your home's overall appeal no matter what the style and aesthetic of your interior are. If you prefer, you can match your barn door's color to the design of your house. Doing so will make your room more unique and add a nice pop of color. 
5. Barn Doors With Double Doors
It's easy to create that attention-grabbing entrance at any time with double barn doors. Also, they create a more intimate and cozier atmosphere by temporarily dividing your room. Additionally, they enhance accessibility whenever you need it while adding unique style to your room.
6. Front Entrance Barn Doors 
Barn doors for home entrances add even more charm to a home, while barn doors for interior design are the most common. Also, you might consider layering another set of barn doors on top of these to add more appeal.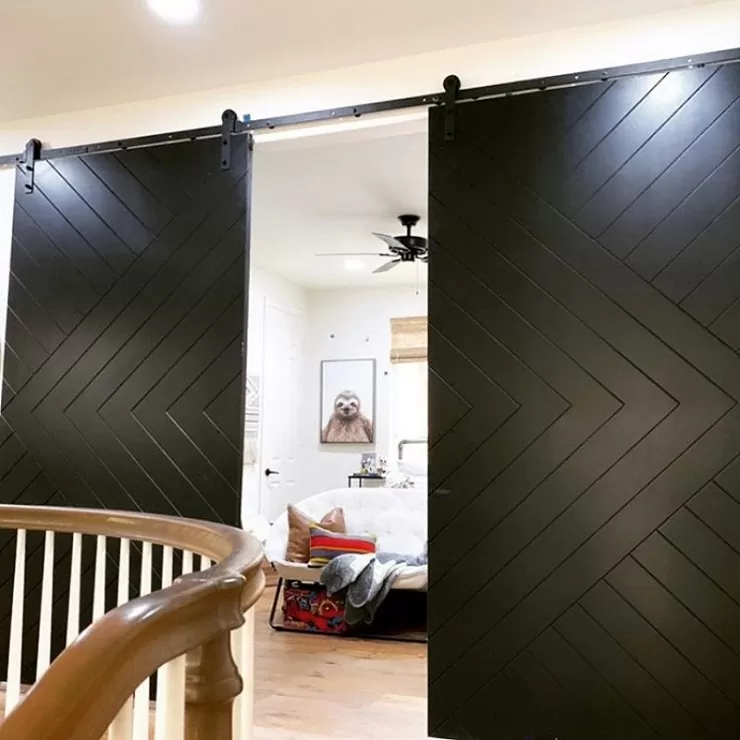 7. Chevron Wood Barn Door 
For homeowners who love a crisper and cleaner style, chevron wood barn doors are a great option. The wood panels have a V-shaped design for a sophisticated look. As well as adding a contemporary rustic feel to the home, the chevron wood barn doors also add a sense of comfort and coziness.
8. A Vintage Barn Door Panel
You can incorporate vintage barn doors into your home if you prefer a vintage interior aesthetic. A vintage or antique barn door can add a vintage touch to a space and make visitors feel as though something special awaits them behind it.
9. Make use of tight hallways
Rooms and closets line your hallway, so doors are essential. However, traditional doors can take up much space when opened. By using barn doors – which lay flat against the wall – you can achieve the functionality you need while not increasing the cramped feel of your hallway. (In fact, they may take up more space than your hallway has available.)
10. Play With Patterned Panels
Rearrangeable wood panels can create striking shapes and patterns for barn doors. Trade color for design, and purchase a barn door with stripes, zigzags, or chevrons if you want your barn door to stand out. 

11. Closet Barn Slider Door 
You can keep your messy clothes, shoes, and handbags hidden from view in your bedroom with closet barn slider doors. Barn doors allow you to conceal clutter that would otherwise be visible in your closet. And this is a DIY for closet barn doors!
12. Other Accents for Your Door 
Barn doors don't have to match anything else in your home. Nevertheless, you can pair your entry with another accent if you want to. For example, if your room has a wood-lined fireplace or bold furniture, you can stain or paint the door the same color. Matching just two pieces will add cohesion to your space without making it feel too matchy-matchy.] 
13. Kitchen Pantry Barn Doors 
Add a hint of country charm to your kitchen pantry through these kitchen barn doors. Apart from their unique aesthetic, barn doors also help save space while concealing the contents of your pantry when not in use. This way, your kitchen will look more organized and free from clutter. 
14. Chalkboard Barn Door  
This door style is ideal for the kitchen. You can use it to hide your storage places and to add a fresh rustic vibe to your home. You could add a chalkboard if you want to add an innovative feature to your barn door. Writing a menu allows you to plan your meals more conveniently or make a grocery list. 
The all-black aesthetic works well in any kitchen and will enable you to blend functionality with looks. For example, this chalkboard barn door works perfectly in this room, but we shouldn't overlook it as a possibility for a kids' playroom.
15. Rustic Warmth for the Office
Chances are that despite being in your own home, your home office doesn't have an inviting atmosphere. Adding a reclaimed barn door to the home office will warm it up And make it cozier. Consider matching some of the rustic elements in the office with the rustic aesthetic. You might want to update your desk to have a texture closer to a barn door.
16. Charming Playroom for Children
With barn doors in their playroom, kids will enjoy the functionality of the doors, and you will be able to add a rustic element to their favorite place. Barn doors may become more appealing as they learn to appreciate their charm. Compared to artificial materials, wood has a natural texture. Kids enjoy playing with sliding doors as well. Installation correctly will ensure that the entrance glides smoothly.
17. Craft Room or Work Area
Consider barn doors if you want to separate a small area in your home for a specific purpose (such as a craft room). Besides their convenient sliding feature, they're ideal for any workshop-style site because of their attractive design. Another advantage is that you can paint the barn doors to match the wall color. 
18. Kitchen Barn Doors
Barn doors are a great way to keep the pantry hidden from view, as discussed earlier. You can also use a barn door to separate the kitchen from other rooms in the house. Especially if your kitchen has a farmhouse design or a more traditional look, this will work great. As a result, you will be able to make this place very welcoming.
Barn doors can make a significant impact in the kitchen as decorative pieces. In addition to being a functional place, the kitchen serves a secondary social function. It would therefore feel more welcoming with rustic barn doors.
Frequently Asked Questions
Is The Barn Door Out of Style?
This uniquely fresh take on country living style combines the sleek lines of contemporary design with the cozy farmhouse aesthetic. Let's return to the fundamental question: Will barn doors be out of style in 2023? That's unlikely as well!
Do Barn Doors Save Space?
In addition to saving space, pocket doors and barn doors are available in various styles and designs. Even though they don't swing out, they can serve as an alternative to swing-out shower doors in bathrooms, closets, or other areas where easy access is needed.
Conclusion
You can add a warm and inviting touch to your home decor with barn doors. This piece evokes a rustic, farmhouse look with its untreated wood and practical hardware. Whatever your style is, we have something that will help you complete your room's decor. Our collections include photo frame collages, chalkboard message boards, and more.
You can leave last-minute messages or lists on wall-mounted chalkboards with hinged or sliding doors. Choose a chalkboard with a barn door in the kitchen to get the entire family involved with the grocery list for a piece that doubles as a bedroom mirror. Modern farmhouse home decor can extend throughout the house with a wall mirror and shutters. Make a stylish "barn door" picture frame collage in your vintage farmhouse living room to display pictures of your children and grandchildren.
You can find a "barn door" wall decor piece made with you in mind at American Art Decor, which arrives ready to accentuate your home decor.